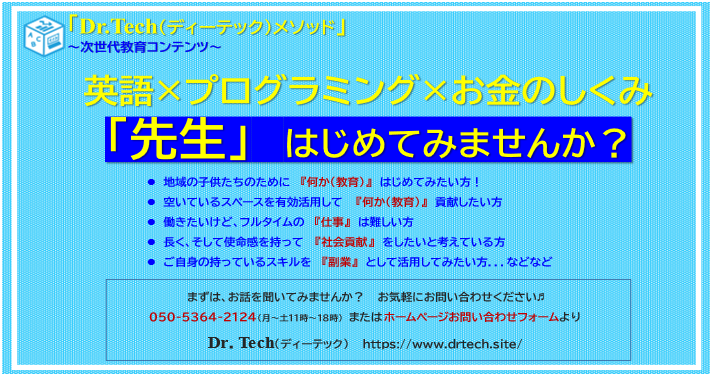 Dr.Tech is based on the concept of "English x programming" with the concept that children will have fun learning skills that are considered to be needed in the future between the ages of 10 and XNUMX who have a soft brain. We are developing classrooms with "× Money Literacy" as the content.
Would you like to start a "teacher" for local children?
Why don't you make use of your free time and place for "education"?
Do you not make "social contribution" with a sense of mission?
If you have any interest, please feel free to contact us.
(Reference) Frequently asked questions during the briefing session
| | |
| --- | --- |
| 1 | The classroom is thinking of a place to rent.Do I need to make a contract by the time of the site visit for the second interview? |
| | Please only check if it can be used as a classroom.You don't need a contract yet. |
| 2 | I have no idea how to recruit students.Can you give me a consultation? |
| | Yes, of course.We will proceed while thinking together about the method that seems to be the most effective depending on the area. |
| 3 | It says that the areas do not overlap, but are there any specific criteria? |
| | There is no quantified standard, but we will manage so that there are no multiple classrooms within the range that your child can attend. |
| 4 | How many students should I get together? |
| | It depends on the balance of expenses, etc., so please contact us at the stage of creating the "income and expenditure plan". |
| 5 | When is the initial cost payment timing? |
| | It will be after the final process "Unofficial decision".Once the payment is confirmed, the schedule for training etc. will be adjusted. |